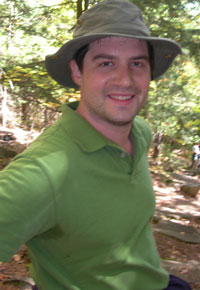 My name is Benjamin Marcus and I live in New York City on the upper west side of New York City with my lovely wife Ilana. I was born in the Bronx and grew up in Hastings-on-Hudson, a small suburban town outside of New York.
I went to the Wharton School of Business at the University of Pennsylvania in Philadelphia, PA, and graduated in 1998 with a Bachelors of Science in Economics. I worked at Morgan Stanley, Goldman Sachs, and Mail.com during the internet boom. Since then I have worked for myself and my father doing computer consulting, computer programming, web design and property management and consulting. My company is The Fourth Floor Equipment Corp. I am always looking for new projects. Please see my resume for a complete skill set.
I live with my wife, Ilana. We have been living together since early 2006, and were married in May, 2007 in Woodbury, NY.
I have a passion for food. I love eating it, making it, and sharing it with others. I host dinner parties several times each month. To see what's on the menu, go to SocialEats (www.socialeats.com). SocialEats dinners are a unique opportunity to share a delicious, homemade meal and meet some new and interesting people while you're at it.